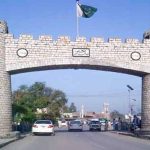 ISLAMABAD: The accountability court hearing National Accountability Bureau (NAB) references against Sharif family on Wednesday declared ex-prime minister Nawaz Sharif's sons Hassan and Hussain Nawaz as absconders for skipping court proceedings.
During the hearing, Justice Muhammad Bashir remarked that Nawaz Sharif's sons were skipping court proceedings on regular basis which is unaccepted and directed to write their names as absconders in every verdict being announced by the court.
Justice Muhammad Bashir added that the trial would get affected due to the absence of the two accused.
The court had summoned Nawaz Sharif, his sons Hassan Nawaz and Hussain Nawaz, daughter Maryam, and son-in-law Captain (retd) Muhammad Safdar in NAB references pertaining to the Avenfield flats, Flagship Investment Limited and 15 other companies as well as Al-Azizia Company Limited and Hill Metals Establishment.
Perpetual warrants for Hussain and Hassan Nawaz's arrest were also issued while the court also separated their case from other members of the family. Afterwards, orders were given to confiscate their shares in six companies as per details provided by Securities & Exchange Commission of Pakistan (SECP).