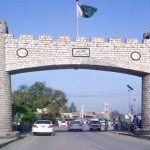 PESHAWAR: Minister for States and Frontier Regions Lt General (r) Abdul Qadir Baloch Tuesday said the operation of repatriating Internally Displaced Persons (IDPs) to their respective areas has been completed to all other tribal areas except North and South Waziristan Agencies.
Addressing on the floor of National Assembly, the minister, he said Rs 81 billion were needed to complete the repatriation operation. Rs 25,000 per family for rehabilitation and Rs 10,000 would be paid to each displaced family as transport charges.
He said Rs 30 billion would be spent on reconstruction and rehabilitating the destroyed health, education and other basic facilities in FATA. He said the dream of achieving lasting peace in the country is impossible without restoring complete peace and tranquility in the country.
He said the Government is determined to restore peace and tranquility in the country which is impossible without rehabilitating Internally Displaced Persons (IDPs).
Lauding the sacrifices of IDPs he said the government could not compensate even their one percent miseries. Peace would be restored in the country at all costs. "There is no question of coming back from the peace endeavors."
Baloch said that in coming few days he would meet Governor Khyber Pakhtunkhwa Iqbal Zafar Jhagra to discuss IDPs problems and ways how to address these problems.
Pakistan Muslim League-Nawaz (PML-N) MNA Tahira Aurangzeb told the National Assembly that gas loadshedding is one of the leading causes behind the rising number of divorces in Pakistan.
Tahira Aurangzeb, the mother of Minister of State for Information Marriyum Aurangzeb, told the lower house that quarrels between couples have become routine because wives are unable to prepare food on time for the household due to gas loadshedding. "As a result, husbands get irritated, which leads to the couple getting separated," Aurangzeb claimed, adding the gas load shedding has spawned a real menace.
Aurangzeb questioned the government about progress on the multi-billion-dollar Iran-Pakistan (IP) gas pipeline project and demanded the house be updated on it.
The house should be informed who exactly is responsible for the mess, she said, adding the tension between husbands and wives impacts children, "the future generation of the country", negatively.
The debate began when another parliamentarian Naeema Kishwar of Jamiat Ulema-i-Islam-Fazl tabled a resolution on gas load shedding.
Minister for Petroleum and Natural Resources Shahid Khaqan Abbasi was absent from the house.
When the NA Deputy Speaker Murtaza Abbasi learned of his absence, he was upset.
Federal Minister for Law Zahid Hamid informed the deputy speaker the petroleum minister was attending a meeting of a cabinet committee, which annoyed Abbasi even further.
"The house is more important than a cabinet committee meeting," the deputy speaker said.