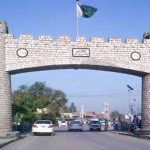 MIR ALI: At least three security personnel sustained injuries when an improvised explosive device (IED) exploded in Mir Ali Bazar of North Waziristan tribal district here on Friday.
According to local administration, the security forces convey was on routine patrol when the explosive device exploded in Mir Ali Bazar. The injured security personnel were shifted to military hospital for medical assistance.
Security forces has cordoned off the area and started search operation to arrest miscreants involved in the attack.