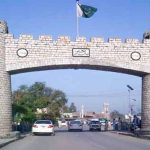 PESHAWAR: Khyber Pakhtunkhwa Inspector-General of Police Salahuddin Mehsud Wednesday confirmed that the minor girl, Asma, found dead in Mardan's Gujar Garhi area was strangled to death after sexual assault.
Talking to media here, the IGP said, "looks like the culprit's intention was to sexually assault [the minor]." The minor's post-mortem also showed signs of torture, the IG said.
He said that the an investigation team headed by DPO Mardan has been formed for investigation into the tragic incident. He said that CTD would also help the investigation team.
According to IG Mehsud, Aasma went missing on January 13 from the Gujjar Garhi area and was found the next day at 3pm after efforts by the police and the family.
Police joined the search after being informed of the incident at 9pm on January 13, the IG claimed, adding that Mardan RPO and DPO subsequently visited Aasma's family on January 14 to record details about the incident, and an FIR was registered after Aasma's body was found.
He said that a daily report was being prepared in the case.