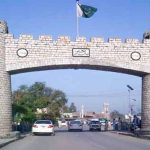 PESHAWAR: IG Khyber Pakhtunkhwa Salahuddin Mehsud has requested the provincial government to take up the issue of shortage of senior police officials in the province with the federal government, which affecting the performance of the police.
In a letter the provincial government, the IG said that there was only one grade 21 official out of sanctioned five. Similarly, he added that 15 out of 19 sanctioned grade 20 officials are performing duties in the province, while four more grade 20 officials should be appointed in the province.
The IG maintained that the Khyber Pakhtunkhwa needs 20 grade 19 officials as only 15 out of 35 sanctioned officials were working in the province. Similarly, the province is short of 14 grade 18 officials as 40 out of 54 sanctioned officials have been deputed in the province.