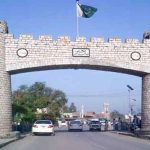 QUETTA: Inspector General Frontier Corps (IGFC) Baluchistan paid a visit to Chaman city on Tuesday and held a meeting with tribal elders in Chaman FC Fort which was attended by a large number of tribesmen.
Speaking on the occasion, the tribal elders said that the enemy wanted China-Pakistan Economic Corridor (CPEC) to fail but the enemy's dream would never come true.
The elders said they were ready to render every sacrifice for the country and added that they would stand shoulder to shoulder with the security forces.
Sector Commander North Brigadier Nadeem Suhail, Commandant Chaman Scouts Colonel Usman and Deputy Commissioner Qaiser Khan also attended the meeting.
Chaman border has been closed due to recent terror activities in the country and every kind of trade and transport activities have come to standstill on the border.