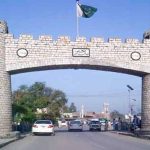 PESHAWAR: Inspector General of Police Khyber Pakhtunkhwa Salah-ud-din Khan Mehsud has said that traders community play a pivotal role in economic prosperity and development of the country and assured that they would be provided congenial and peaceful atmosphere at every cost to carry out their trade activities.
He was addressing a 9-member delegation of Sarhad Chamber of Commerce and Industries at CPO Peshawar on Tuesday. The delegation was led by its president Haji Muhammad Afzal.
IGP informed the delegation that beside Khyber Pakhtunkhwa police the traders community was also offering equal sacrifices in the ongoing war against terror.
Traders were law abiding and peaceful citizen that was why every effort was being made to provide them conducive atmosphere to do their business, he added.
He further went on to say that law and order in Peshawar and else where in Khyber Pakhtunkhwa would be maintained at all cost and no one be allowed to disturb peace. The police chief informed that police was fully committed against terrorism and other crimes and the war against them will be kept continue till its logical end.
We have broken the backbone of these elements and will achieve more success against them he maintained.
He further said that there was no political interference in the police force and best police officers are being posted on priority basis.
Earlier, president of Sarhad Chamber of Commerce and Industries Haji Muhammad Afzal briefed the IGP about the problems and difficulties being faced by the traders.
The delegation members also suggested for installation of CCTV Cameras at different places, solution of traffic hazard and other trading related problems.
The IGP welcomed their suggestions and assured that a separate meeting will be convened very soon for its implementation and solution of their problems.
The members of the delegation expressed full confidence over the leadership of IGP and thanked for taking keen interest in solution of their problems.
They also extended invitation to the IGP of visiting the Khyber Pakhtunkhwa Chamber of Commerce which was accepted.