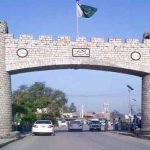 ISLAMABAD: Islamabad High Court on Tuesday approved PTI Chairman Imran Khan bail in Toshakhana case.
The Islamabad High Court Chief Justice Amir Farooq heard the Imran Khan's bail application and granted him bail till March 9 against Rs 100,000/- (One lac) bonds.
Earlier a local court in Islamabad has issued non-bailable arrest warrant against Imran Khan in Toshakhana case on Tuesday.
The PTI chief traveled from Lahore to Islamabad via motorway instead of a helicopter to attend court proceedings in four different cases. He appeared before Anti-terrorism court and banking court in the judicial complex where both courts approved his bail applications. He, however, didn't appeared before the additional Session Judge Zafar Iqbal and the court subsequently issued his non-bailable arrest warrant in Toshakhana case.
Meanwhile, Imran Khan reached to Islamabad High Court to appear the court for bail.
Earlier, two courts in Islamabad have accepted bail applications of the PTI chairman Imran Khan. Anti-terrorism court and banking court in the judicial complex approved the bail applications of Iman Khan.
The Anti-terrorism court approved interim bail of Imran Khan, while banking court confirmed pre-arrest bail of the chairman PTI.
Earlier, Imran Khan reached Judicial Complex along with party workers and leaders. The PTI workers forcibly entered into Judicial Complex and broke the entry gate and damaged the security cameras.
Imran Khan has to appear before the banking court and other three courts today. Imran Khan was sitting in his vehicle outside the court, while PTI leaders and workers are shouting slogans in his favour. Imran Khan appeared before anti-terrorism court.
Strict security arrangements have been made on the occasion of Imran Khan's arrival at judicial complex and district courts. However, the police and Rangers failed to stop the PTI workers from entry into Judicial complex.
Meanwhile, on the request of the Imran Khan's counsel the hearing of the murder case against Imran Khan in the District and Sessions Court was adjourned till 12noon.
Imran Khan's lawyer appeared in the court of Additional Sessions Judge Zafar Iqbal.
On the inquiry of the judge, Imran Khan's lawyer said that Imran Khan has left Lahore and is coming to Islamabad by road. Imran Khan will first go to Banking Court, then he will come to district courts. He said that he could not give a time for Imran Khan's appearance.
The court adjourned the hearing till 12 noon. However, Imran Khan could not reach the district courts.