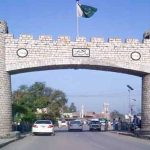 ISLAMABAD: The Islamabad High Court (IHC) on Monday has once again barred the Election Commission of Pakistan (ECP) from taking action against Pakistan Tehreek-i-Insaf (PTI) Chairman Imran Khan for allegedly flouting election code of conduct.
The PTI Chief's lawyer Babar Awan argued in the court that public office holders were not allowed to participate in election campaigns under Article 260, but Khan was not a public office holder.
Awan added that his client was only a representative of the public saying that Khan could not be kept from participating in election campaigns.
The ECP notices sent out to his client after an election has taken place were not effective, he concluded.
Upon the argument of PTI Chief's lawyer, the court barred ECP from taking action on notices sent to Imran Khan until further notice and adjourned the case until February 12.
The ECP had taken various notices against Khan for addressing public gatherings and campaigning in different constituencies even after the announcement of by-elections in those areas.