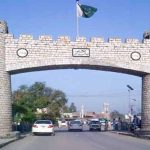 ISLAMABAD: A two-member bench formed to hear the disqualification case against Pakistan Tehreek-i-Insaf's (PTI) chief Imran Khan under Article 62 of the Constitution dissolved again on Thursday.
A division bench, headed by Justice Shaukat Aziz Siddiqui and comprising Justice Athar Minallah, was scheduled to hear the petition.
However; the dissolution was necessitated after Justice Athar Minallah recused himself from the case citing personal reasons.
It is pertinent to mention that PTI chief had expressed reservation on the two-member bench hearing his disqualification case and decided to raise objection over it.
Imran's counsel was to move IHC for the formation of a new bench to hear the case.
According to Imran, Justice Athar Minallah was the spokesperson of former chief justice Iftikhar Chaudhry, whereas Justice Shaukat Aziz has personal grudges against the PTI chief.
Justice Siddiqui had earlier heard the case and issued a notice to the PTI chief, summoning him on Aug 1, but the bench was changed and Justice Miangul Hasan Aurangzeb was made part of this bench. On Aug 2, Justice Amir Farooq and Justice Aurangzeb had to hear the case but the judges recused themselves from hearing the case and ultimately the bench was dissolved.