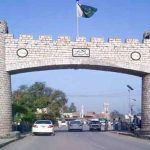 ISLAMABAD: The Islamabad High Court (IHC) Tuesday directed the Ministry of Defence (MoD) to remove encroachments from the Aabpara Road within four weeks and submit an implementation report with the court.
Justice Shaukat Aziz Siddiqui, who heard a miscellaneous application of MoD against the court decision regarding removal of encroachment from Aabpara Road, also withdrew its summons for in person appearance of the Secretary Defence and head of a state institution.
Justice Siddiqui observed that the persons were summoned after the deputy attorney general had informed the bench that he was not authorized to share any schedule for removal of the encroachments.
Officials of the ministry and state institution department appeared before the court during the course of proceedings.