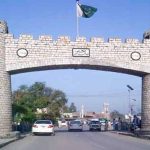 ISLAMABAD: The Islamabad High Court on Tuesday admitted a plea seeking disqualification of Pakistan Tehreek-e-Insaf (PTI) minister Faisal Vawda for allegedly submitting a false affidavit before the Election Commission of Pakistan (ECP).
The petitioner maintains that Vawda "contested the election of National Assembly while submitting false declaration and hiding his dual nationality" which makes him "liable to be disqualified under the Constitution and law of the land".
In his petition, the petitioner argues that Vawda held dual nationality at the time of filing his nomination papers to contest the 2018 general elections, hence, he is not "honest" and "Ameen" and should be removed from the position.
Faisal Vawda, Secretary cabinet division, secretary law and justice, secretary NA and Election Commission have been made respondent in the petition.
For more latest news visit Khyber News website.