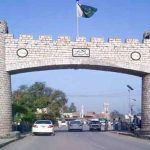 ISLAMABAD: Justice Shaukat Aziz Siddiqui of the Islamabad High Court on Wednesday directed that two girls who have been missing since 2016 should be recovered by the next hearing.
Justice Siddiqui was hearing a case in the Islamabad High Court (IHC) regarding two girls, Sama and Adiba, who went missing in 2016.
The IHC directed secretary interior and director general Federal Investigation Agency (FIA) to take immediate steps to recover the girls.
Secretary Interior Major (retd) Azam Suleman Khan, DG FIA Bashir Memon and deputy attorney general Arshad Mehmood Kiyani appeared before the court for the hearing today.
As the hearing went under way, police told the court, "Sama and Adiba have been missing since 2016."
To this, Justice Siddiqui remarked, "For girls to go missing in an Islamic country poses a question mark for us."
Justice Siddiqui then broke down into tears and said, "We all are parents to daughters and God forbid any one of us has to go through such an ordeal."
Expressing anger, the IHC judge turned to DG FIA and said, "We requested FIA but you were not able to do anything either."
Following this, the DG FIA requested for more time and said, "We have gotten clues about a man and will soon be able to find out about the girls."
Justice Siddiqui then said, "I am getting the feeling that state institutions are failing."
"It is said that if everyone is traced, but then where are these institutions," he added.
Further, Justice Siddiqui said, "The Islamabad Police disappointed me. I want action."
"Stop giving the court lollipops and recover the girls by the next hearing," he added.
The court then adjourned the hearing of the case till October 19.