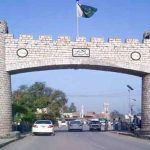 ISLAMABAD: The Islamabad High Court (IHC) on Monday ordered to transfer the case of appointment of two members of the Election Commission of Pakistan (ECP) to the parliament.
IHC Chief Justice Athar Minallah presided over the hearing of the case, and asked the House Speaker and chairman to prevent the ECP from getting 'non-functional'. The court further remarked that the detailed judgment would be issued.
"Can't the parliament resolve even such a small matter? […] Does the federal government still want to defend the persisting deadlock?" the judge asked, adding that the court has its confidence on the parliament that it would resolve the issue.
"Constitutional institutions should not be made non-functional, does the government want this to happen?" he further questioned, adding that the matter pertains to public interest.
"Election commission has almost become inactive," he mentioned, while asking could a hearing on the case be postponed only because it was pending in the apex court.
In the courtroom, the additional Attorney General asked for the court's permission to acquire instructions from the government on the matter.
Earlier, Chief Election Commissioner Justice (retd) Sardar Muhammad Raza Khan refused to take the oath from the Sindh and Balochistan members of the Election Commission of Pakistan (ECP) appointed by the government.
Giving the reason for his refusal to take the oath, the CEC said that the appointments of Khalid Mahmood Siddiqui (Sindh) and Munir Ahmed Khan Kakar (Balochistan) were not made under Article 213 and 214. "I cannot take the oath as the appointment of the new members is illegal," he said.
The Election Commission of Pakistan has already informed the Ministry of Parliamentary Affairs in this regard. The opposition has already rejected their appointments, terming them illegal.
According to the constitution, consultation between the prime minister and the opposition leader is mandatory for the appointment of a new member. The matter is sent to the parliamentary committee if both fail to reach a consensus. Then the parliamentary committee decides the appointment of the new members after consultation. Despite the deadlock, the government appointed the two members.