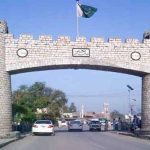 ISLAMABAD: The Islamabad High Court (IHC) on Wednesday reserved its verdict on the petition of former Securities and Exchange Commission of Pakistan (SECP) chairman Zafar Hijazi to nullify the FIR filed against him in the record tampering case.
The Federal Investigation Authority's (FIA) special court had framed charges against Hijazi in October last year for allegedly tampering with the records of Chaudhry Sugar Mills which is owned by the family of deposed prime minister Nawaz Sharif.
The FIA had submitted a forensics report while Hijazi's lawyer had presented the written arguments before Justice Mohsin Akhtar Kayani.
After hearing the arguments of Hijazi's legal counsel, Justice Kayani reserved the decision.
The former SECP chairman was indicted last year, in November, at the Islamabad court, where the FIA maintained that the accused is involved in the tampering of mills record.