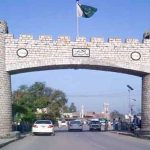 The Islamabad High Court has declared former prime minister and PTI Chairman Imran Khan's petition challenging the sessions court decision ineffective.
IHC Chief Justice Aamer Farooq heard the petition seeking cancelation of Imran's arrest warrants issued by the sessions court in the Toshakhana case on Tuesday.
The PTI chairman challenged the sessions court decision which did not accept his declaration.
Imran's lawyers Khawaja Haris and Barrister Gohar appeared before the court.
During the hearing, Chief Justice Farooq sought a report regarding the loss of Imran's court attendance file from the trial court and Islamabad IG police.
The judge ordered to produce the report about the lost file within 10 days.
With this, the court adjourned the case till April 7.
The sessions court cancelled its arrest warrants issued against Imran Khan after the latter's arrival at the Judicial Complex on March 18.