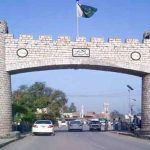 ISLAMABAD: The Islamabad High Court (IHC) on Monday served notices on Pakistan Tehreek-e-Insaf (PTI) Chairman Imran Khan in a case pertaining to his alleged daughter Tyrian.
A two-member bench comprising Justice Shaukat Aziz Siddiqui and Justice Amir Farooq conducted the hearing.
A petition has been filed by Justice and Democratic Party in IHC seeking the disqualification of PTI Chief Imran Khan under Article 62 of the constitution.
The petitioner stated that Imran Khan has not mentioned the name of his daughter Tyrian from Sita White in the nomination papers.
He maintained that Imran Khan does not fulfill the requirements under article 62 and 63 and is not eligible to contest elections.
After hearing the arguments, the court sent notices to Imran Khan and the Election Commission of Pakistan (ECP).