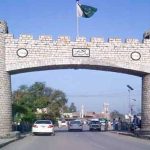 ISLAMABAD: Prime Minister (PM) Shahid Khaqan Abbasi had a meeting with Imam-e-Kaaba Al-Sheikh Dr. Salih bin Muhammad bin Talib in Islamabad on Monday.
They exchanged views on issues concerning Muslim Ummah and matters of bilateral interest between Pakistan and Saudi Arabia.
Earlier, Imam-e-Kaaba had met with Chief Minister of Punjab (CM) Shehbaz Sharif in Lahore and discussed challenges being faced by Muslim nation across the world.
Pakistan Muslim League-Nawaz (PML-N) leader Zaeem Qadri and religious scholars were also present in the meeting.
During the meeting, strategy to strengthen Pakistan and Saudi Arabia relations was also discussed while CM Shehbaz also talked to Imam-e-Kaaba in Arabic.
On March 9, Imam-e-Kaaba Dr Saleh bin Muhammad Al-Talib had led Friday prayers at the center of Markazi Jamiat Ahle-e-Hadith in Kala Sha Kaku. Thousands of people gathered at the venue and offered prayers behind him.