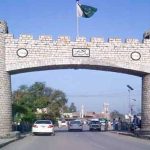 PESHAWAR: Imam-i-Kaaba Sheikh Abdul Rahman Al-Sudais and Saudi religious affairs minister Saleh bin Abdul Aziz Al-Sheikh on Thursday arrived in Peshawar to attend the Jamiat Ulema-i-Islam-Fazl's centenary celebrations in Nowshera on Friday.
JUI-F chief Maulana Fazlur Rehman and other leaders received the distinguished guests at Peshawar's Bacha Khan International Airport.
The Imam-i-Kaaba would lead the Friday prayer in Azakhel, where three-day centenary celebrations underway.
According to the organisers, over four million people from Pakistan, India, Nepal, Bangladesh, Middle East and other countries are attending the celebrations.