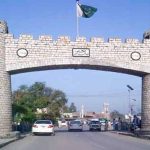 ISLAMABAD: International Monetary Fund (IMF) on Wednesday sounded the alarm for Pakistan, saying that contrary to government claims, Pakistan's economic growth will be one percent next year.
The IMF said in its World Economic Outlook report released on Wednesday that Pakistan s economic growth is likely to be only one percent next year, adding that in the next budget, the growth rate was expected to be one percent before the outbreak of coronavirus.
Contrary to the government estimates, the IMF said the country s economic growth rate in 2018 was 5.5 percent. The economic growth rate was 1.9 percent in 2019, while the current and next year s economic growth rate will remain negative and this year, Pakistan s growth will be negative 0.4 percent.
It is pertinent here to mention that the federal government had set a target of 2.1 percent economic growth in the new budget.
According to the report, the global economic crisis will be more serious than expected due to coronavirus. The global economy could face more financial problems in January-March 2021 and the outbreak appears to be exacerbated in countries where COVID-19 has been defeated.
The financial institution further said that before COVID-19, India s economic growth was expected to be negative 4.5% this year, while India s growth rate may be negative 1.4 percent in the next financial year, adding that India s growth rate will fall even higher than Pakistan s growth rate.
According to the IMF, economic activity is expected to fall to 5% in 2020, which is two percentage points lower than what the IMF predicted in April.
Meanwhile, the global growth is projected at –4.9 percent in 2020, 1.9 percentage points below the April 2020 World Economic Outlook (WEO) forecast. The COVID-19 pandemic has had a more negative impact on activity in the first half of 2020 than anticipated, and the recovery is projected to be more gradual than previously forecast. In 2021 global growth is projected at 5.4 percent. Overall, this would leave 2021 GDP some 6½ percentage points lower than in the pre-COVID-19 projections of January 2020. The adverse impact on low-income households is particularly acute, imperiling the significant progress made in reducing extreme poverty in the world since the 1990s.