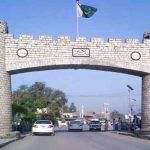 ISLAMABAD: Finance Minister Asad Umar says a team of IMF will arrive in Pakistan on seventh of next month to negotiate a loans program for Pakistan.
Talking to newsmen in Islamabad today (Saturday), he said the government decided to go to IMF after making consultations with friendly countries.
The Minister said the reforms being introduced by the government will not have any negative effect on the poor.
He said special steps have been introduced in the finance bill for the export sector in the finance bill. He expressed the government's resolve to increase exports to come out of the cycle of loans.
The Minister said stock market improved by 600 points with the announcement of going to IMF.
The Finance Minister said trade deficit increased due to rise in prices of petroleum products.
He said foreign exchange reserves have reduced to eight billion dollars. He said rupee devalued against dollar by seven percent from April to September this year.