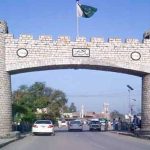 PESHAWAR: Pakistan Tehreek-e-Insaf (PTI) chairperson and prime minister nominee Imran Khan has reached National Accountability Bureau (NAB) Peshawar office Tuesday after being summoned in an ongoing inquiry against his alleged misuse of Khyber Pakhtunkhwa government's helicopters.
Imran Khan will be given a questionnaire based on 15 questions regarding alleged illegal use of an Mi-17 and an Ecureuil helicopter for a total of 74 hours, which belonged to the KP government, causing a loss of Rs2.1 million to the national exchequer.
The PTI chief had been summoned by the accountability body on July 18, but had sought more time to appear due to his busy schedule for campaigning for the general election. He had submitted an application to the NAB through his counsel Babar Awan seeking another date to appear in the case.