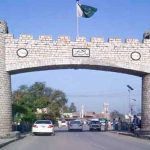 ISLAMABAD: Pakistan Tehreek-e-Insaf (PTI) Chairman Imran Khan and his lawyer Advocate Babar Awan will not appear before Returning Officers (ROs) today (Monday) for the scrutiny of nomination papers of Imran Khan for NA-53 (Islamabad).
According to media reports, Babar Awan has informed the ROs to conduct the scrutiny on Tuesday instead as he had been summoned by the Election Commission of Pakistan (ECP) in Lahore today.
Reports also said that assistant to Babar Awan, Rai Tajammul appeared before the ROs to represent Imran Khan.
He also submitted a written reply over the objections raised on candidacy of PTI Chief.
Other politicians contesting from NA-53 include Pakistan Muslim League-Nawaz's (PML-N) Barrister Zafarullah, Mehtab Abbasi and PTI's Ilyas Meherbaan among others.
Meanwhile, the ECP will complete scrutiny of nomination papers filed by candidates for upcoming general elections on Tuesday.
A total of 21,482 nomination papers have been filed across the country for national and provincial assemblies.