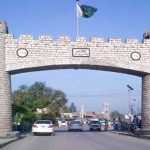 ISLAMABAD: In a first interim challan submitted in the anti-terrorism court in Islamabad today (Monday), Muttahida Qaumi Movement (MQM) chief, two other senior party leaders including Muhammad Anwar and Iftikhar Hussain have been declared as masterminds behind Imran Farooq's murder.
The interim challan submitted by the Federal Investigation Agency (FIA) prosecutor also declared Mohsin Ali Syed, Khalid Shamim and Moazzam Ali as accused in the case.
The challan declared Mohsin Ali Syed as the prime culprit while Khalid Shamim and Moazzam Ali have been named as facilitators.
Suspects' confessional statements, statements of travel agents and travel history of the accused were also included in the challan.
After reviewing the interimg challan, special court's judge Kausar Abbas Zaidi rejected Moazam Ali's bail plea.
Farooq, 50, a founding member of the Muttahida Qaumi Movement (MQM) party, the most powerful political force in Pakistan's biggest city Karachi, was stabbed and beaten to death in Edgware, northwest London in September 2010.
Farooq claimed asylum in Britain in 1999. He was wanted in Pakistan over scores of charges including torture and murder related to the MQM's activities, but always claimed the accusations were politically motivated.
He had twice been elected an MP in Pakistan, but went into hiding in 1992 when the government ordered a military crackdown against party activists in Karachi.