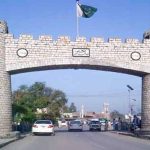 ISLAMABAD: Afghanistan President Ashraf Ghani called PTI chairman Imran Khan on Sunday and congratulated him on his victory in the parliamentary elections.
In a statement on Twitter, the Afghan president said he extended an open invitation to Imran Khan and he expressed his wishes to visit Kabul soon.
"I just spoke to Imran Khan and congratulated him on the victory in parliamentary elections," Ghani tweeted.
"We both agreed to overcome the past and to lay a new foundation for a prosperous political, social and economic future of both countries #Afghanistan and #Pakistan," he said.