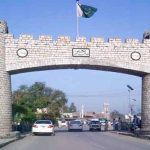 ISLAMABAD: Strongly reacting to government's crackdown against Pakistan Tehreek-i-Insaf (PTI) workers and leaders, Imran Khan on Friday vowed to show on November 2 in Islamabad what the power of people actually is.
Talking to media in Bani Gala, Imran Khan questioned the government's decision to not allow him to leave his Bani Gala residence to join protesters in Rawalpindi. "Is this a kingdom or a democracy?" he asked. "What crime have we committed? Why did they stop me from going to Rawalpindi." "When IHC directed authorities not to block Islamabad then why was Banigala sealed?" "I will follow you till my last breath," he warned Prime Minister Nawaz Sharif. "If you put me in jail, I will get after you when I come out."
Imran Khan said even "30,000 policemen" cannot stop him from going to Islamabad on Nov 2. He directed party workers to avoid arrest and gear up for the Islamabad protest.
As the PTI and Awami Muslim League (AML) vowed to go ahead with their planned protests against the government, police and opposition activists came face to face at Rawalpindi's Committee Chowk near the Lal Haveli residence of Sheikh Rasheed.
Sheikh Rasheed arrived at Committee Chowk on a motorcycle to join the protesters. "If you have it in you, come and arrest me," he said while speaking to reporters. He claimed that 450 protesters have been arrested by "white clothed" people.
TV footage showed baton-carrying police pushing back PTI activists. Soon after, activists started pelting stones at the police.
Rashid said police are beating up activists of his party. "They did not even spare children. They are not letting ambulances reach Lal Haveli."
Meanwhile, Imran Khan has reportedly cancelled his plan to travel to Lal Haveli, where he was to join an AML-organised meeting.
An Islamabad police official said police have been instructed to ensure implementation of Section 144 and restrict movement of PTI leaders.
The interior ministry's helicopters were seen conducting air surveillance of the capital to discourage any gathering at public places.
PTI activists will take out a rally from Insaf House to the Karachi Press Club.
The political atmosphere in the twin cities of Islamabad and Rawalpindi turned tense with the PTI calling for countrywide protests on Friday after police stormed a youth convention of the party and arrested activists in the federal capital late on Thursday.
The AML had earlier vowed to go ahead with its plan of holding a political meeting at Shaikh Rashid's Lal Haveli residence, despite a ban on public gatherings. Moreover, Rashid had claimed in a tweet that his driver and security guard had been arrested.
Separately, PTI's top brass, including Asad Omer and Shah Mahmood Qureshi, was evaluating the situation at Imran Khan's Banigala residence.
Despite the plans announced for today's protest, normal traffic could be witnessed on Murree road, the main artery connecting Rawalpindi and Islamabad, and education institutions, offices and businesses were functioning as per usual in the twin cities. However, the turnings on the road that lead to Lal Haveli where the AML gathering was going to take place were blocked with containers.
Furthermore, authorities suspended the Metro Bus Service in the twin cities "till further orders". And although skeleton staff was present, entrance gates of all bus stops have been locked for public since Thursday evening.
Section 144 was imposed in the twin cities a day earlier, leading to a ban on public gatherings and usage of loudspeakers.