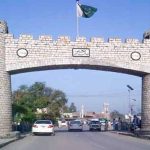 ISLAMABAD: Pakistan Tehreek-i-Insaf (PTI) chief Imran Khan on Tuesday wrote a letter to caretaker premier Nasirul Mulk to remove Khyber Pakhtunkhwa Governor Iqbal Zafar Jhagra for his association with Pakistan Muslim League-Nawaz (PML-N).
Khan stated that KP governor enjoys complete jurisdiction over administration and financial matters of the province. Khan went on to say that Jhagra's loyalties are with Pakistan Muslim League Nawaz (PML-N) and latter is interfering in political affairs of KP. "Governor's role is controversial as he is supporting a political outfit. KP governor should be removed from his post with immediate effect to ensure transparent and unbiased elections.
Khan also urged caretaker premier to reshuffle bureaucracy of federal government and provincial governments.