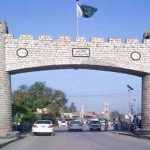 PESHAWAR: Pakistan Tehreek-e-Insaf (PTI) Chairman Imran Khan on Thursday said that huge money is used in Senate elections adding that senators should be directly elected by the masses to stop horse trading.
Talking to media after the parliamentary party's meeting in Khyber Pakhtunkhwa Chief Minister House, he said, "While Senators are elected directly by the people in the United States, Senate elections here only use money." He claimed that he was also offered bribe.
Khan said that there is an urgent need to change the process of Senate elections. He said, "Those senators – who give money to be elected – will only do corruption". "Senators are brought on the basis of money and they commit corruption," he added, stressing to end the horse trading.
He hoped that his party will win the 2018 Senate elections and hold them through direct voting in future.
On this occasion, KP CM Pervez Khattak complained that no consensus could be reached between the government and opposition for appointing Senators from the province.
Imran Khan alleged, "Chief Minister of Punjab Shahbaz Sharif has been involved in corruption worth Rs.9,000 billion for the past nine years."
Khan also went on to say Khyber Pakhtunkhwa (KP) Government improved education and health systems in the province. "Health cards were issued for the underprivileged masses," Khan said.
It is pertinent to mention that PTI has fielded had announced candidates for the upcoming Senate elections.
Azam Sawati, Fida Hussain, Faisal Javed, Mehrtaj Roghani, Khayal Zaman and Ayub Afridi will contest the Senate elections on KP seats while Chaudhry Muhammad Sarwar will contest the Senate election from Punjab.
The names were decided in a meeting presided by PTI Chairman Imran Khan.
It is pertinent to mention that PTI and Pakistan Muslim League-Quaid (PML-Q) formed a committee to finalise the name of candidates for the elections of the Parliament's Upper House.
Sawati will be retiring as a Senator in March.