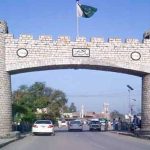 ISLAMABAD: Pakistan Tehreek-e-Insaaf (PTI) Chairman Imran Khan on Tuesday demanded of the federal government to immediately merge the Federally Administered Tribal Areas (FATA) with Khyber Pakhtunkhwa to mainstream the tribal areas.
Briefing media after the party central executive committee (CEC) session, Imran Khan said a vacuum exists in FATA, which if not filled, will again lead to a resurgence of terrorism in tribal areas. "There is now a vacuum in the tribal areas as the old system has been done away with. We feel there is a danger that if the vacuum remains than terrorism will again take root in the region."
Imran Khan slammed JUI-F chief Maulana Fazlur Rehman for creating hurdles in implementation of FATA reforms and said that Maulana is playing a very dangerous game.
PTI Chairman said the tribal people and the armed forces have rendered great sacrifices in the fight against terrorism and a resurgence of terrorism will hurt the entire country. He claimed that the PML-N government and Maulana Fazl-ur-Rehman are scared as they think if FATA is merged with KP than it will benefit PTI.
Imran Khan termed delay in merger process a great injustice with people of FATA.
About amendment in Khatm-e-Nabuwat clause, Imran Khan said that PTI had overtly opposed amendment in Khatm-e-Nabuwat clause. He said PTI is going to constitute a committee to unveil rampant corruption in Punjab and Sindh. He said that the committee will disclose financial irregularities in Orange Line Train and Metro Bus projects.
While responding to question on India's unabated aggression along LoC, Khan reiterated that New Delhi resorts to such tactics whenever Nawaz Sharif is in trouble.
Keeping verbal onslaught up, Khan inquired why Sharif brothers are vehemently hurling threats at Supreme Court and National Accountability Bureau, He accused Nawaz Sharif of pressurizing apex court to take cases back.
Replying to question on backlash he is facing over curse remarks, Khan stated that national and provincial assemblies are passing resolutions against him. "All culprits become united on the name of saving corruption", taunted PTI chief.
About resignations of PTI members from assemblies, Imran Khan said that the party MPAs from Khyber Pakhtunkhwa have submitted their resignations with him.