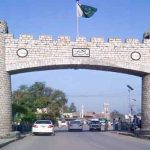 ISLAMABAD: Chairman PTI Imran Khan has escaped indictment in Toshakhana case as he could not reach the court room due to chaos gripped the Islamabad Judicial Complex.
When the additional session judge Zafar Iqbal resumed the hearing of the case, the lawyers of Imran Khan informed the court that the PTI chief could not entre into court room due to chaos in the judicial complex. On the request of Imran Khan's lawyers, the judge allowed court staff to take signature from Imran Khan in his vehicle. Imran Khan after signing the court documents, left the judicial complex.
PTI vice chairman Shah Mehmood Qureshi has confirmed that Imran Khan has left the judicial complex after completing legal formalities.
Earlier, the PTI workers clashed with police and caused damage to public property, forcing the law enforcers to briefly detain Khan's Chief of Staff Shibli Faraz.
The former prime minister's convoy also faced several hurdles on its way from Lahore to Islamabad — from vehicles overturning to police and party workers clashing on several spots.
In line with PTI's insistence that Khan's life is in danger and he needs security, Islamabad Chief Commissioner Noorul Amin Mengal shifted the hearing from F-8 Court Complex to the Judicial Complex in G-11 as a "one-time dispensation".
Ahead of Khan's arrival at Islamabad's Judicial Complex, the area was put on high security to ensure law and order and avoid any untoward situations — as happened last month.
But a situation like last time took place as PTI workers began stone-pelting at authorities inside the premises of the Islamabad Judicial Complex, resulting in teargas being spread to the courtroom where Khan was set to appear.