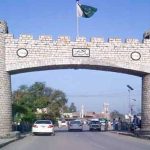 ISLAMABAD: The Pakistan Tehreek-e-Insaf (PTI) chief Imran Khan has said that he was willing to mediate between the Army and Pakhtun Tahafuz Movement (PTM) for resolution of issues adding that some of the demands of Manzoor Pashteen were justified, however, the method of presenting these demands was not right.
In an interview with a private news channel, Imran Khan said he always opposed military operation in Fata. He said he was branded as Taliban Khan when he opposed military action in the tribal areas. He said the basic human rights are violated wherever the military carries out operation. He said there is always reaction when the military is used against own people.
Imran Khan feared that Manzoor Pashteen might be used by the anti-state elements. He said sloganeering against the state institutions was not acceptable. He said the major challenge of the tribal areas is rehabilitation and rebuilding.
Imran Khan alleged that former prime minister Nawaz Sharif got the help of Army in the 2013 elections. He alleged that a brigadier had extended massive support to Nawaz Sharif in Punjab. The PTI chairman emphasized that he had given a lot of thought to the matter before leveling the allegation. He said Nawaz Sharif claims that the military is against him, but the real situation is that he is unhappy that he no longer enjoys support.
He said Nawaz Sharif always played matches with his own umpires. He said the judiciary and military always helped Nawaz right from the era of Ziaul Haq to 2013, but he always betrayed both the institutions.