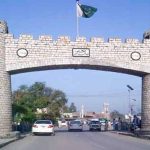 LAHORE: Reacting to Pakistan Tehreek-e-Insaf (PTI) speech at Lahore rally on Sunday night, Chief Minister Punjab Shehbaz Sharif slammed Imran Khan for his repetitive speeches and asked as to how a person could bring about change if he cannot change his speech.
Shehbaz Sharif – who is also the President of Pakistan Muslim League-Nawaz (PML-N) – said that despite ruling for five years in Khyber Pakhtunkhwa, Imran did nothing for people.
He added that the PTI Chief hides behind Shaukat Khanum Memorial Cancer Hospital and Research Centre (SKMCHRC) and National University of Modern Languages (NUML).
Commenting on the 11-point agenda announced by Imran Khan in Lahore's rally, Shehbaz Sharif asked, "Why was an emergency not imposed for girls education in KP? Why weren't educational institutes given a curriculum? Why weren't new hospitals and schools built in KP? Why wasn't an agricultural emergency imposed?"
Shehbaz Sharif remarked that PML-N has always engaged in politics of serving people.
Those who want to take the country back to dark ages have a problem with its progress, he added.