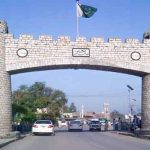 MALAM JABBA: Pakistan Tehreek-e-Insaf (PTI) chairman Imran Khan on Thursday inaugurated chairlift in Malam Jabba's Ski Resort. The chairlift was destroyed by militants earlier in 2008.
While addressing at the inaugural ceremony, Imran Khan said that several tourists visited Khyber Pakhtunkhwa in current year due to provincial government's successful strategy. He said that corruption has halted investments in Pakistan.
Imran Khan said that country with corrupt leader cannot become developed. He said performance of KP government is on top in Pakistan as we punish crooked leaders by putting them in jail.
Khan also said that corruption on low-level creates difficulties for common masses while if it is being carried out on macro-level, it can demolish the country.
PTI chief along with Chief Minister of KP Pervaiz Khattak also travel on chairlift and witnessed stunning scenery.
About 208 people can take a ride in Malam Jabba chairlift at one.