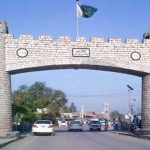 ISLAMABAD: Minister for Privatization Daniyal Aziz has said that Pakistan Tehreek-i-Insaf (PTI) chief Imran Khan was involved in corruption of funds donated from abroad funding and his own confessional statements in that regard were on record.
Talking to a private news channel, the minister said the counsel of PTI chief had confessed in the court that Imran Khan owed an offshore company in the name of Niazi Services Ltd. Accountability process should be initiated against Imran Khan and his party's secretary general Jahangir Tareen, who also owned offshore companies, he added.
Daniyal said allegations of corruption were leveled against former Prime Minister Muhammad Nawaz Sharif but he was disqualified on having an Iqama. Nawaz's disqualification, he said, was a conspiracy against the Pakistan Muslim League-Nawaz (PML-N) government and he would soon hold a press conference in that regard, he added.
He said the names of Nawaz Sharif and Minister for Finance Senator Mohammad Ishaq Dar were not mentioned in the Panama Papers.