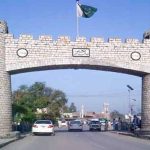 KARACHI: Pakistan Tehreek-e-Insaf (PTI) chairman Imran Khan has on Wednesday linked Pakistan's progress with development in Karachi and decried lack of basic amenities in the metropolitan city.
Addressing a gathering of business community, the PTI chief drew a sketch his party's plans for the development of Karachi and added that they would empower local government system in the city if voted to power.
Imran Khan said that they would take care of the city's growing water needs by building desalination plants and power projects.
He said that people of Sindh were ready for change and asked them to take to streets and show your power.
Imran Khan is in Karachi as part of his election campaign in the city and he is expected to visit several other areas.