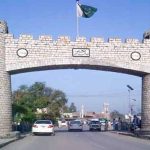 SUKKUR: Leader of the Opposition in National Assembly Khurshid Shah on Thursday has termed Pakistan Tehreek-i-Insaf (PTI) chief Imran Khan as the biggest well-wisher of Prime Minister (PM) Nawaz Sharif adding that Khan is making PM Nawaz stronger day by day through his protests and sit-ins.
While talking to media outside his residence in Sukkur, Khurshid Shah pronounced that no one is a great well-wisher of Nawaz Sharif than Imran Khan. He said Khan always give a call to the Prime Minister and when the goal is not achieved Imran moves forward and make another call. Due to this people think that Nawaz Sharif is stronger.
He pronounced that shutting down any city is not the solution to any problem and his party will never support such 'non-democratic' move.
Talking about the 'London Plan' he said that now high-quality machinery is also present in Pakistan therefore; it is not worthy to visit London for devicing any strategy.
He clarified that Pakistan Peoples Party (PPP) is not going to conduct any power show in Karachi instead it is holding a 'Salam Shuhda' rally on October 16 in remembrance of the martyrs of Karsaz incident.
He demanded that PM Nawaz should fulfill his promise of presenting himself for accountability.
"The situation has grown to be tense as PM Nawaz is trying to escape accountability which he promised before," exclaimed Shah.
The opposition leader hoped that the government will appoint a foreign minister in a month as there is immense pressure on it.
He also lamented over the leaks from political and military meetings and declared it as the failure of the government.