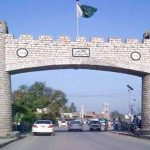 Former Prime Minister Imran Khan while addressing a large crowd at Minar Pakistan,
without naming the powerful 'Establishment', asked them to correct their mistake and hold free and fair elections in the country.
However, he did not give a date for the long march to Islamabad, which was expected by many observers.
Imran Khan's Lahore speech has added to the confusion re his "conspiracy" narrative. Earlier, he had said that it was an international conspiracy hatched by the United States to overthrow him as Washington was angry over his visit to Russia, but now he said that those who committed mistake should correct course of action by holding early election. He was definitely not talking to the United States.
In the last three public meetings, Imran Khan has been successful in selling his narrative of "US-backed conspiracy" to the masses, who came out in thousands believing in him.
But in the Minar Pakistan jalsa, Imran Khan also mentioned other characters besides the opposition and the United States asking them to correct their mistake. Imran Khan rejected the formation of a high-powered commission by Prime Minister Shahbaz Sharif but demanded that an inquiry commission be set up by the Supreme Court and an open hearing be held.
According to Imran Khan, he wants an independent foreign policy, but certain powers don't let Pakistan to have it's independent foreign policy. He said that late Prime Minister Bhutto was removed and hanged because of his independent foreign policy and local traitors he called them "slaves" of that time played their role in it. In the last three public meetings, he has prepared his own "narrative" based on anti-American sentiments, but in the last few days he has been blaming other forces directly or indirectly for his removal.
He probably wanted the Establishment and the judiciary to be with him, especially after the alleged international conspiracy, when the no-confidence motion was tabled. He was disappointed that the Supreme Court did not consider that aspect and openly sown his anger in public rallies.
On the other hand, a press release following the meeting of the National Security Committee of the parliament on Friday to review the ongoing controversy over the 'letter gate', has rejected any sort of conspiracy related to vote of no confidence.
Now the question arises that if Imran Khan's demand for immediate elections is not accepted then where will he go from here.
The coalition government has no plans to hold elections before next year and would like to carry out electoral reforms as well as amend the election laws of the Imran era, provided political situation of the country remain calm. Therefore, the repeal of the 2014 sit-in at D-Chowk is certain soon after Eid.