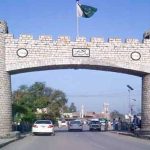 LAHORE: Pakistan Tehreek-e-Insaf (PTI) Chairman Imran Khan has said that he would fight till the last drop of blood for the people of Pakistan.
Addressing a public rally in Lahore, the PTI Chief said that the people of Lahore had never disappointed him whenever he called them or appealed to them for donation.
Imran Khan asked as to why did Quaid-e-Azam Mohammad Ali Jinnah found Pakistan and added that Quaid-e-Azam did not wanted "today's Pakistan".
"Jinnah founded Pakistan because Congress wanted Hindu Rule over the subcontinent and wanted to crush rights of Muslims beneath their feet. He founded Pakistan where people from all religions and every walk of life could have their rights. Qauid-e-Azam wanted Pakistan in the way Medina was established where Prophet Mohammad (Peace Be Upon Him) introduced a system based on justice only. The state of Medina was based on pure merit and transfer of responsibility to responsible people where all were equal before the law", Imran said.
He recalled that late President of Pakistan General Ayub Khan was accorded warm welcome by the President of United States himself but the incumbent Prime Minister Shahid Khaqan Abbasi was stripped of his clothes at a US airport and the former prime minister Nawaz Sharif was reading from paper while talking to the US President.
Imran Khan said that the current rulers were obtaining loans from international organizations to pay back already taken loans which were further burdening the downtrodden people in the form of taxes.
Imran Khan said, "I had no interest in politics and was enjoying my life to the fullest but when my mother fell prey to cancer; it changed my life because I came to know that there was not a single cancer hospital in Pakistan. I took my mother to England for treatment where I saw a poor woman in the hospital who was being meted out free of cost treatment.
Imran said that that was the time he decided to establish a cancer hospital in Pakistan where deserving people may be treated free of charges and patients may not be taken to foreign countries for treatment.
The PTI Chairman added that when he compared Pakistan with developed and welfare states, he decided to join politics and make Pakistan a welfare state where people may have dignity.
Taking a jibe at the current rulers especially the Sharif family, Imran Khan said that everything of a small mafia – which holds control of the entire country – was in foreign countries adding that they return to Pakistan only to rule.
Imran Khan said that the mafia is taking the country towards national security threat adding that this mafia could not be defeated without a revolution.
Presenting his 11-point agenda, he said:
First point: Countries flourish when they invest in education. Japan made swift progress after 1945 because they invested in people. Shehbaz Sharif has established not a single international level university in Punjab despite ruling the province for 10 years. PTI will invest in human development and on one education system.
Second point: If I can establish Shaukat Khanum Memorial Cancer Hospital (SKMCH) without the help of the government, I will build hospitals in the country where the poor patients will be treated free of cost. We will take care of our people's health.
Third point: We will generate revenue to steer the country out of heavy debts. We need not to take loans for this purpose. I claim that I will gather money from this nation the way they have donated for SKMCH. We will bring revolution in the country's tax collection system.
Fourth point: We will eliminate the menace of corruption from the country and will stop money laundering. We will make NAB and FBR strengthen. We will bring investments to Pakistan and will reduce taxes on gas and electricity for industries. The overseas Pakistanis will benefit from this and will invest in Pakistan as they are biggest investing potentials.
Fifth point: We will boost the tourism industry and will provide employment to people in this sector. With boost in tourism, tourists from the entire world will come to Pakistan which will generate income.
Sixth point: We will introduce reforms in agricultural sector as no one cares for the farmers. The sugar mill mafia has inflicted loss on the farmers but I will lay hands upon this mafia.
Seventh point: We will strengthening the federation and will provide all the provinces with their rights. We will integrate Federally Administration Tribal Areas (FATA) into Khyber Pakhtunkhwa immediately.
Eightth point: We will introduce local government system in the country where mayor will be elected directly. We will give funds to these local government representatives instead of assembly members.
Ninth point: We will work for the betterment of environment and elimination of contamination from the country. We will launch projects to clean rivers.
Tenth point: We will bring merit and introduce reforms in police. We will depoliticize the police and one day the people will say Punjab police Zindabad.
Eleventh point: We will establish educational institutions for women to give them education. There will be two girls' schools out of three new schools and 70 colleges out of 100 colleges. We will provide legal protection to women.
At the end of his address, Imran Khan conveyed his message to the people saying that you can become what you want.
"Dream big and think for your country. Become great people because Pakistan is the name of great a great dream", he said in his message.