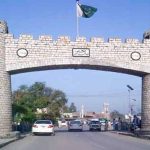 ISLAMABAD: Pakistan Tehrik-e-Insaf (PTI) Chairman Imran Khan has promised that his party will curb high-level corruption on same day as his party assume government adding that curbing low level corruption will take some time.
While addressing workers at Jinnah Convention Centre as part of his election campaign in National Assembly constituency NA-53 Islamabad, Imran Khan said that he wanted to tell a few things to the workers. He said high level corruption is what the PM and his ministers are involved in. "Will the people of Pakistan vote such rulers who don't even stay in Pakistan?," he questioned. "I assure you, as soon as we come to power; we will nip high level corruption in bud," he added.
Imran Khan promised that the successful Billion Tree Tsunami Afforestation campaign of KP will be extended to whole Pakistan with a target of 10 Billion Trees. "The environmental issues such as lack of rains, global warming etc are because we don't have enough greenery," he maintained.
Imran Khan alleged that Shehbaz Sharif failed to construct a single hospital in Punjab where the Sharif family members could be treated.
He assured that his party will empower NAB and FIA to end high level corruption. "A single Dollar has reached to 125 rupees, but the Sharif and Zardari families are happy because their wealth in foreign accounts and countries increased," he alleged.
"Workers should note that the first rule of a competition is to never consider your opponent weak," the PTI chief said. "We were never prepared the way we are this time."
Speaking of distribution of tickets, he said that he faced immense difficulties in the process of awarding party tickets to the candidates.
"There were several capable candidates, but the ticket was to be handed to one person," Khan said, adding that there was no way to avoid the dismay of aspirants.
"My wife saw me growing old in three weeks over the matter of party tickets," he said.
Khan was joined by PTI's National Assembly candidates Asad Umer, Raja Khurram Nawaz and Ali Awan, who also addressed the gathering.
Earlier this week, Imran's papers for NA-53 were approved after an election appellate tribunal allowed the PTI chief to contest polls from Islamabad.
His papers had been rejected on the basis of not filling out clause-N, which asks candidates about their contributions to their previous constituencies.
When the former cricketer-turned-politician had appeared before the Islamabad election tribunal, he had explained that he set up the Shaukat Khanum Cancer Hospital and Namal College, and made the nation aware of its constitutional rights and exhorted the public to struggle for their rights.