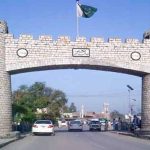 ISLAMABAD: Imran Khan has been re-elected as Chairman of the Pakistan Tehreek-e-Insaaf following intra-party elections.
According to the results, Shah Mehmood Qureshi has also been re-elected as Vice Chairman and Jehangir Tareen as Secretary General of the party.
The party has submitted details of the intra party polls with the Election Commission of Pakistan.
According to PTI statement, the total number of votes cast and counted were 256,957.
There were two contesting panels of candidates.
"Insaf Panel" led by Imran Khan secured 189,055 votes and "Ehtisab Panel" led by Naik Muhammad Khan obtained 41647 votes. The number of invalid votes are 26,255.
Azam Sawati was the party's Chief Election Commissioner, who supervised the polls.
Majority of the votes were cast from Punjab, followed by KP.