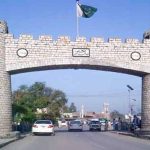 SEHWAN: Pakistan Tehreek-e-Insaf Chief Imran Khan on Monday reiterated demand for early elections and termed Asif Ali Zardari's call of Nawaz Sharif's arrest as symbol of doomsday.
While talking to media in Sehwan Sharif, Imran Khan warned political rivals that nation wouldn't accept any new NRO.
While responding to question, Khan dismissed role of establishment behind demand of early elections. He said that future of MQM lies in detachment from Altaf Hussain.
Imran Khan took a jab at Sindh government on barring him from entering Lal Qalandar's shrine.
"I have never witnessed such incident in Pakistan's recorded history where govt bars anyone from entering shrine. Lame excuses of armed guards were used but video recordings are available which dismiss their (Sindh govt) claims," Khan told media personnel.
"They (PPP) have transformed Sindh in a police state while natives have been enslaved," Khan stated while adding, "Revenge actions, torturing people through police and to spread terror is what is Sindh all about".
Khan said that PPP can't win a seat in Sindh if police are reformed while forecasting at the same time that PPP would lose 2018 polls in Sindh for the first time.