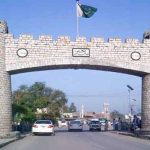 SWAT: Commenting on the accountability court verdict in Avenfield reference against Nawaz Sharif and his family, Pakistan Tehreek-e-Insaf (PTI) chairman Imran Khan on Friday said that the powerful are being held accountable for the first time in Pakistan.
Addressing a rally in Swat, Imran said the children of former prime minister Nawaz Sharif had given contradictory statements previously about owning apartments in London.
Nawaz Sharif was sentenced to 10 years in prison and slapped a £8 million fine in the Avenfield properties reference on Friday while his daughter Maryam was sentenced to seven years with a £2 million fine.
Imran added that July 26 will see the dawn of a 'new Pakistan'.
The PTI chief stated that Nawaz's son had accepted ownership of the London properties on television.
Imran also lamented the lodging of several cases against him in a bid to silence his struggle in exposing the Sharif family's corruption.
Claiming that Nawaz and Pakistan Peoples Party chief Asif Zardari destroyed state institutions, Imran said he joined politics to rid the country of corruption.
"These corrupt rulers stole the nation's money and laundered it abroad. What they earn during power, a common labourer cannot even earn in his lifetime," Imran said.
Taking a jibe at the former chief minister of Punjab Shehbaz Sharif, the PTI chairman called Nawaz's younger brother "the country's biggest showman".
"Shehbaz was hiding in his room when rain lashed Lahore," Imran remarked. "He is not holding rallies [anymore] because he knows people will question him."
Shehbaz was finally talking about investing in human capital, instead of roads, said the PTI leader.
Drawing attention to the human development carried out in Khyber Pakhtunkhwa during PTI's tenure, the cricketer-turned-politician said the other provinces wanted to model their police, health and education system along KP's example.