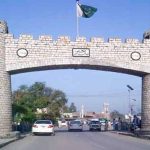 ISLAMABAD: Imran Khan, Chairman of Pakistan Tehreek-e-Insaf (PTI) convened a meeting with Sheikh Rasheed, chief of Awami Muslim League (AML) and discussed the ongoing Panama Leaks case against premier's family in the Supreme Court (SC).
Reportedly, the two leaders agreed to giving the government representatives tough time in the top court. Sheikh Rasheed, on the other hand, submitted further documents in the SC relating to Panama Leaks case.
Chief of AML said that whatever SC's verdict was going to be the political parties would accept it.
Reportedly, the documents filed by Rasheed include tax returns details of the premier. He asserted that the top court would be provided with evidence of corruption.
Justice would prevail while 'coffins would come out,' he added.
During the meeting, the leaders decided to pursue Panama Leaks case against alleged corrupt premier to its conclusive end.