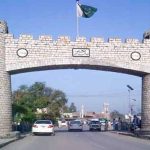 ISLAMABAD (Khyber News) PM Imran Khan on onday has thanked the nation for the peacefully observing Youm-e-Ashura (Muharram 9 and 10) in the country.
In a post on social-networking website Twitter, the premier said, "Unfortunately, information has come to me of elements who tried to ignite flames of sectarianism on this occasion."
"I will be taking very tough action against them," he assured.
Earlier on Sunday,Youm-e-Ashura, the tenth of Moharram, was observed across the country with due solemnity to pay homage to the supreme sacrifice rendered by Hazrat Imam Hussain (AS) and his devoted companions in Karbala
Taazia and Zuljanah processions were taken out in all cities and towns. Hundreds of religious gatherings (Majalis) and processions were also held across the country.
Thousands of mourners, including ladies and children wearing black dresses participated in countrywide hundreds of Ashura processions for ceremonial mourning that involves the ritualistic Matam , self-flagellation to reflect the grief over the violent martyrdom of Hazrat Imam Hussain (AS) and his companions.
A number of devotees carrying Tazias and Alams were reciting soul-stirring elegies and hymns, dedicated to Hazrat Imam Hussain (AS) and his family. Zuljinnah was the major attraction of the mourning processions and everybody wanted to touch it.