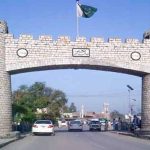 BANNU: Pakistan Tehreek-e-Insaf (PTI) chairman Imran Khan will visit Bannu, Khyber Pakhtunkhwa to address a public gathering today.
Imran will be contesting elections from NA-35 Bannu.
The PTI chief was also due to visit Waziristan later in the day, however, he no longer will be visiting the tribal area for unknown reasons.
He will also be visiting the tribal areas in the near future, where he is scheduled to address two or three public gatherings.
Imran is also scheduled to visit Karachi on July 3 for two days and address various public gatherings while in the city.
The former cricketer turned politician will be contesting elections from NA-243 constituency of Karachi.
In total, the PTI chief is contesting elections from five constituencies, including NA-95 Mianwali, NA-131 Lahore and NA-53 Islamabad.
General election will take place across Pakistan on July 25.
The printing of ballot papers for upcoming elections will start in Islamabad, Lahore and Karachi under the supervision of the army today.
The distribution of ballot papers will also be done under the army's supervision.