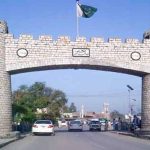 ISLAMABAD: Pakistan Tehreek-e-Insaf (PTI) Chairman Imran Khan is scheduled to visit Sargodha for electioneering as the party has released an election campaign travel log of PTI Chairman.
According to details, the PTI chairman will start campaign in 25 cities of Punjab, Khyber Pakhtunkhwa (KP) and Sindh in the next 21 days.
Imran will spend 11 days addressing public rallies in 14 different cities of Punjab, according to the travel log.
After Punjab, the PTI chairman will take to KP where he will campaign for five days in eight different cities.
Of the five days scheduled for Sindh, Imran will spend three days in Karachi and two in interior Sindh.
The PTI chairman's campaign for the general election will conclude with a rally scheduled in Islamabad for July 23.
According to the party's travel log, the PTI chairman will not be visiting Balochistan or the tribal areas in KP formerly known as Federal Administrated Tribal Areas (FATA).