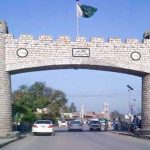 PESHAWAR: Delivering a motivational speech at an event in the provincial capital of Khyber Pakhtunkhwa, Pakistan Tehreek-e-Insaf chairman on Saturday urged the participant particularly women to realize their potential in order to achieve personal goals and for the betterment of the country.
Imran Khan was speaking at Seminar "Digital Youth" at a local hotel that was also attended by Khyber Pakhtunkhwa Chief Minister Pervaiz Khattak among others.
He said the field of information technology is "our future".
The PTI chief also spoke of the development taking place in the world.
He was confident that the way the world was making progress time will soon come when Chinese people will have learned the Urdu language.
He was of the view that longing for luxuries such as cars and other comforts of life is not a goal one should be seeking to achieve. He urged the participants to work for the well being of others.
"And that goad cannot be achieve without looking beyond oneself," said he.