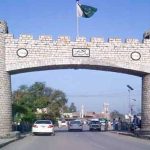 DADU: Pakistan Tehrik-e-Insaf (PTI) Chairman Imran Khan has said that the Panamagate verdict exposed the real face of Prime Minister Nawaz Sharif adding that they would compel the prime minister to resign.
While addressing a rally at Dadu on Saturday, Imran Khan appealed that the masses should come to Islamabad on Friday and demand PM's resignation.
Instead of being ashamed of themselves, they distributed sweets after Panamagate verdict. "Judges declared that Nawaz Sharif has not remained honest and righteous anymore," expressed Imran Khan during the rally.
PTI Chairman announced that like he chased down Nawaz Sharif in Punjab, in the same way he would follow Asif Zardari in Sindh.
He went on to say that Asif Zardari transformed the biggest party into a party of just one province and which couldn't have been done even by a military dictator.
He also alleged during the speech that Asif Zardari and Fazal-ur-Rahman are two of the most cunning politicians in Pakistan.
Imran Khan expressed at the occasion that he welcomes Liaqat Jatoi in PTI and time will prove that his decision in favor of Sindh and Pakistan was the right one.
PTI Chairman professed that Nawaz Sharif has badly trapped after Panamagate verdict as he was pretending to be innocent in the past.
Imran professed that he knows as to how Nawaz Sharif had amassed such huge amount of money.
PTI Chairman claimed at the occasion that he will gather an ocean of people in PTI rally in Islamabad.