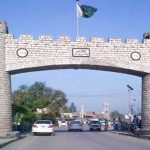 KARACHI: Pakistan Tehreek-i-Insaf (PTI) Chairman Imran Khan on Monday vowed to get the entire nation involved in the movement against corruption adding that Prime Minister Nawaz Sharif destroyed a country's institution to hide his corruption.
Imran Khan reached Karachi today and was addressing media personnel at the Jinnah International Airport. He hurled accusations at Speaker National Assembly Ayaz Sadiq saying that he is not impartial.
The Speaker rejected the reference submitted against the Prime Minister Nawaz Sharif in wake of Panama leaks revelations, however, he accepted the reference against him, alleged Imran.
Imran Khan on the occasion said that it would be Prime Minister Nawaz Sharif who would face destruction not him. "You would not get time to even go to Jeddah," Imran Khan lashed out while heavily criticising the premier.
He said that he would bring the entire Pakistan to Raiwind to protest, adding that he would contact all the political parties in this regard.
The PTI chief said that he would take to streets if he did not get justice. "I bought a flat in London, my name was not in Panama Leaks, still the reference was accepted against me," said Imran Khan.
Earlier, four references filed against the Prime Minister were rejected by Speaker of the National Assembly Ayaz Sadiq.
The references filed against the prime minister by PTI, Awami Muslim League's Sheikh Rasheed and former Member of National Assembly Umar Farooq were rejected for lack of evidence.
Sources said that the speaker rejected one reference filed against PTI chief Imran Khan, but forwarded another reference filed by Pakistan Muslim League Nawaz leader Daniyal Aziz.
The District East administration issued a No Objection Certificate (NOC) to PTI ahead of their planned rally at Nishtar Park on Tuesday the 6th of September.