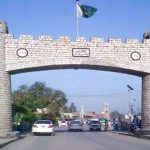 ISLAMABAD (Khyber News) – PM Imran Khan, who was scheduled to visit rain-hit Karachi, will now visit the metropolis on Saturday.
The decision regarding the change of prime minister's scheduled visit to Karachi has been taken during a meeting presided over by Imran Khan on Karachi's transformation plan.
The premier was briefed in detail about the plan during the meeting.
The meeting also apprised PM Imran Khan regarding consultation with all stakeholders and future strategy on Karachi Transformation Plan.
The meeting decided that the premier will now visit Karachi on Saturday where will preside over an important meeting.
He was scheduled to visit Karachi on Friday where he would announce new projects for the city.
After the record-breaking rain devastated Karachi taking dozens of lives and destroying homes, PM Imran Khan had said that the federal government would soon announce a plan for a "permanent solution to the problems" by cleaning river beds, fixing the sewage system and resolving the huge challenge of water supply.
"We will not abandon the people of Karachi in their time of crisis", the premier said.
On Friday, Sindh Governor Imran Ismail had also reassured the citizens that the federal government is devising a comprehensive strategy to improve the situation of Karachi on priority. He added that PM Khan, after consulting his cabinet members, would soon formally announce the necessary steps to resolve the issues of Karachi – Pakistan's financial hub and a city of over 16 million.
The governor, who is appointed by the federal government, said there was an urgent need to remove encroachments and illegal dwellings on riverbeds, which is creating issues for the entire city. It was unfortunate that every issue of Karachi was politicised and "no one ever seriously addressed the problems" that aggravated the difficulties in the country's economic hub